Barbecues Didn't Matter In 2014, And Dinners Don't In 2022
December 1st, 2022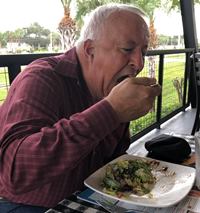 Much has been blubbered online over the past couple of days about the alleged importance of Devin White and Lavonte David organizing a dinner this week for the defense to bond and air grievances.
Sort of an early Festivus celebration.
First, let Joe remind everyone that the Bucs had a players-only meeting in October after the undermanned Steelers embarrassed them in Pittsburgh. Did that help?
Second, allow Joe to deliver a small history lesson. After the Bucs traded for Pro Bowl guard Logan Mankins in August of the miserable 2014 season, Mankins said the fact he couldn't organize a bonding barbecue in Tampa with his fellow linemen held the unit back.
Joe couldn't swallow that because people a lot poorer and less busy than Mankins manage to have poolside barbecues in Tampa It was a ludicrous comment and certainly had nothing to do with the play of what might have been the worst offensive line in team history.
Fast-forward to today and Todd Bowles was asked about the defense's dinner, and thankfully Bowles didn't put much stock in it and noted that games are won through "execution" on the field.
Bowles was asked if perhaps the offense should have a group dinner, too, and Bowles didn't take the bait. He said the the group spends a lot of time together in the team cafeteria.
December bonding isn't what's going to help the Bucs this season. The roster's Super Bowl core is still around and unity is not what's hurting the team. What the Bucs need what represents radical change to the offensive playcalling and coaches willing to have a gameday hunger that matches what they expect from players.