Bucs Had Players-Only Meeting
October 19th, 2022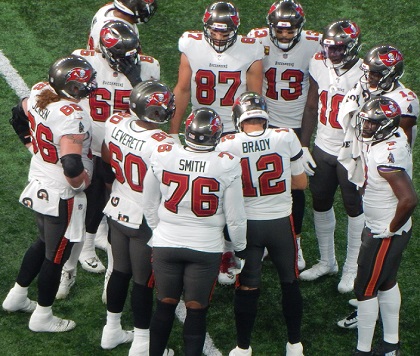 Our beloved Bucs are determined to figure out why they're not playing like champions.
That has Joe off the couch at JoeBucsFan.com world headquarters.
In fact, per manbeast defensive tackle Vita Vea, Bucs players gathered this week, after dissecting film with coaches, to put the microscope on themselves. Vea shared this on The Richard Sherman Podcast.
Vea called Sunday's upset loss to Pittsburgh a "gut check" day.
"Us as players we sat down and met on our own to figure out, you know, what was going on with [us] as a group," Vea told Sherman. "You know, we figured out that obviously this is not the same team we've had in the previous years. We got a couple new pieces in here that have big roles to play, so those are all (then gets cut off by Sherman)."
Unfortunately, Sherman changed the subject on Vea, perhaps to keep him from revealing something he would regret.
Joe took it all as good news that team leadership realizes something is very wrong when you lose to Kenny Pickett and Mitch Trubisky, and the Steelers' JV secondary.