Accountability Train Picks Up Steam At One Buc
December 7th, 2022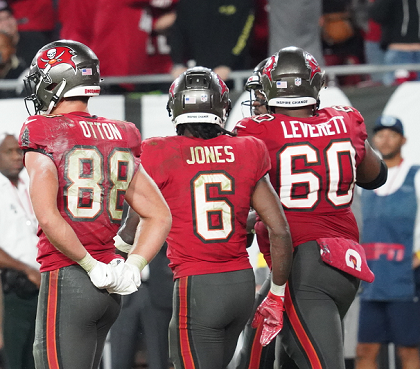 Jaelon Darden got fired yesterday and the offensive line was targeted by Todd Bowles in two separate interviews, plus guys getting praised are being nitpicked at the same time.
Joe has noticed a sharpening of knives, so to speak, at One Buc Palace.
The Bucs have won three out of four games and have a commanding lead in the NFC South with their 6-6 record, but it seems the head coach is ramping up the pressure.
Maybe, just maybe, Bowles will call out Tom Brady or the Bucs' playcalling soon. That would be entertaining.
Bowles sat down with WFLA-TV sports chief Dan Lucas this week and Lucas asked Bowles why the offense is struggling to move the chains consistently and score in games early.
"Penalties and missed assignments and missed blocks," Bowles began. "We gotta keep a hat on a hat longer, for us to get through, for Tom to have time to throw, for us to be able to run the football."
On the Buccaneers Radio Network, Bowles further called out the blocking when asked about the Tampa Bay running game. Bowles made it clear it's not the running backs holding back the rush attack.
How about starting rookie left guard Luke Goedeke being healthy and ready, Coach? Bowles told local media that Goedeke will ride the bench until further notice.
As for the Monday heroics of backup right tackle Josh Wells stepping in to start without allowing a sack in 54 pass attempts, Bowles tempered his praise.
"Josh played tough, not fundamentally, sound but he played tough and he played scrappy and that's what you needed in that type of ballgame," Bowles said.
Joe Tryon-Shoyinka? Your snaps have been slashed.
Joe doesn't think various changes and tougher talk from Bowles is a coincidence.