"Totally Unacceptable"
November 8th, 2022
Team Glazer likes to say it learned from their late father that to understand a subject, lean on a guy who has traveled that road.
Joe is the same way. So when Joe hears former NFL players talk football, Joe pays attention. And if that guy happens to be a smart dude (you know, like an Ivy League degree) and discusses a position he played? Joe is paying full attention.
So Joe is guessing by his Twittering Sunday night that former NFL offensive lineman and teammate of Good Morning Football host Kyle Brandt, the man behind perhaps the best series of football podcasts out there, Ross Tucker, that he is no fan of the Bucs' offensive line as a group.
(How could anyone not be a fan of, say, Tristan Wirfs, unless you are a slimy Saints fan (and your brain has been soaked with too many hurricanes for too long and you are also developing PTSD from inhaling the fumes of mule dung in the Quarter)?
Tucker, while watching the Rams-Bucs game Sunday, Twittered and scolded the Bucs offensive line.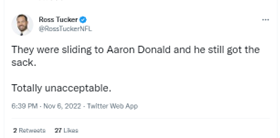 Joe is giving the Bucs a break here. Aaron Donald is a Hall of Fame player. You expect exceptional plays. You know, like slide-protecting and the guy still beats you.
But a fundamental Bucs flaw may be at play here that comes from coordinating an offense and molding it from a group of 11 into a single unit. A team. Think about it: The Bucs have had far, far worse offensive lines (no, Joe is not calling the current group "bad.") and still the Bucs found a way to be more productive.
Hell, when is the last time Pete Carroll had a strong offensive line in Seattle? He never had a rushing attack as worthless as the Bucs currently have.