Tom Brady Talks Urgency
November 3rd, 2022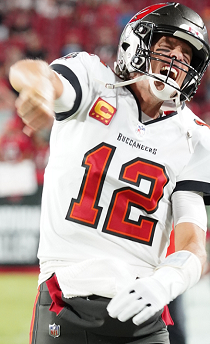 Tom Brady spent a little time defining leadership today at One Buc Palace.
After acknowledging everything feels hard and challenging for the Bucs offense on now, Brady said grinding and pushing harder falls on leadership to drive. "Pushing people in practice and trying to get a bigger sense of urgency," Brady said of what Bucs team leaders need to do.
Brady emphasized that the Bucs aren't playing winning football and the margin for error is smaller so far this season.
Of course, Brady dropped many clichés at his news conference, but Joe was intrigued by the comment on building "a bigger sense of urgency."
Why is this a freakin' problem? It was urgent to the max against Carolina after the upset to Pittsburgh, then it was no-excuses urgent at home against the Ravens. Every fan knew it. Why did the Bucs need help processing that?
The season is on the line Sunday. If the Bucs don't walk away from that game exhausted after giving everything they have on every snap, then there's scant hope for this team or its coaching staff.