Tom Brady: "I'd Rather Lose And Play Than Not Play At All"
November 28th, 2022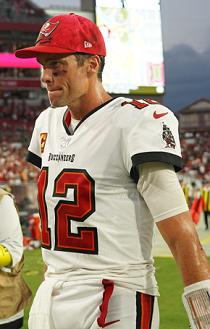 Losing hurts Tom Brady. He does not take it lightly. Chris "Swaggy" Baker he is not. In fact, Brady said tonight about losing, "It feels like the soul gets ripped out of you."
Brady was talking on his Let's Go! show on SiriusXM Mad Dog Radio. He continued and explained that losing is better than the calling games for FOX being a fan.
"Look, losing is hard for all of us, but I'd rather lose and play than not play at all," Brady said.

"I love playing. I love competing. I love trying to be a little bit better every day. I love going out there with a sense of purpose to try to get better. And ultimately, I love trying to play at a championship level for my teammates. … And obviously there's challenges every year. Everybody has unique challenges, you know, on and off the field. You work as hard as you can with the circumstances that are presented before you. We're just going to keep fighting til the end and we'll be measured by, again, by what happens over the course of a long season."
Brady also talked about his endless love for practice and how much he enjoys preparation in his 23rd NFL season. He even said he sees significant weekly improvement in the Bucs lately but not enough to make them more than an average team.
Regardless, Brady was dripping with optimism, he said, because of where the Bucs sit in the NFC South and how quickly a season can turn around.
All that chatter soothed Joe a little bit. Just maybe, Brady can save this season and return for Year 4 in Tampa.