Tom Brady Has Devin White's Back
November 5th, 2022
It is obvious Bucs linebacker Devin White wants everyone to turn the page on one of the game's greatest calling him out (on different platforms).
Joe gets it. Who wants to have bad things written about you or spoken about? The best way to prevent that is to not do bad things.
Ah, the rigors of making seven figures a year in a high-visibility gig for which taxpayers build you an office.
So when Bucs legend Warren Sapp noticed — in a tie game — White giving far less than 100 percent hustle, Sapp took to Instagram and unloaded on White and said White should have the "C" on his chest ripped off and replaced as a team captain.
Then Sapp went on Ian Beckles' "In the Trenches" podcast and torched White some more.
Last week in the locker room, it was a bad vibe, at least on Wednesday. It was the first media availability since the loss to the Crows and the first since Sapp scolded White.
As Joe documented, several Bucs Pro Bowlers couldn't dress and bolt out the back door of the locker room quick enough when the local pen and mic club was let in. One was White.
The Bucs linebacker was approached by reporters, who wanted his reaction on Sapp's words. White passed and instead got out of dodge as if he were late for a dentist appointment.
Thursday, White stood in front of the Bucs' backdrop in the locker room, which signaled his media availability was choreographed by the team. Rarely do players use the Bucs' red backdrop. They speak at their lockers, usually.
If the team organizes a player to speak to the media, he stands in front of the backdrop. There, White basically said he had no comment about Sapp's charges and was respectful of Sapp and his history with the team and his football resume. Smart move, Mr. White.
White apparently believed his standup to field comments about Sapp's loafing allegation was enough and that the subject should be put to bed. But when a Bucs beat reporter accurately quoted White on Twitter, it clearly got under White's skin.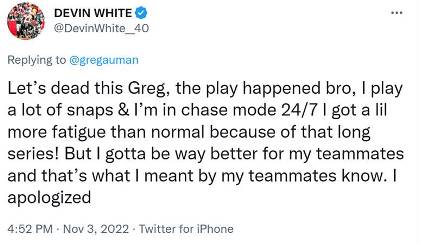 Soon after, Tom Brady retweeted White's missive and Brady basically told White he and the team have his back.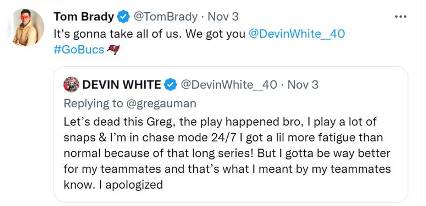 Well now. If it takes players getting irked about being quoted accurately to motivate them and galvanize the Bucs to maybe jolt the team back to life and into a winning streak, Joe is here for that.
And besides, who doesn't like a dustup between a player and a member of the Fourth Estate? Those are always fun.
If this is what it takes to jump-start the Bucs, Joe hopes Sapp calls out and unloads on half the team.
Some 19 years after he last played for the Bucs, Sapp may still be impacting the team. In a good way!