Todd Bowles Stands Behind Flushing 13 Seconds In Final Fourth-Quarter Drive
November 27th, 2022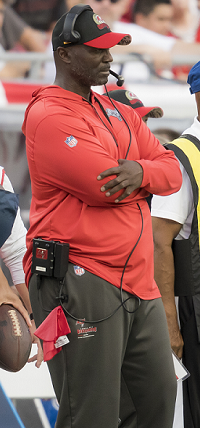 Pay attention, Team Glazer.
Our beloved Buccaneers, with Tom Brady at quarterback, were set up for a game winning drive in the fourth quarter, starting at their 25 yard line with 32 seconds remaining and three timeouts in their pocket.
A field goal wins the game.
Up steps Brady to the line of scrimmage and he throws a screen pass to Rachaad White for a one-yard gain. White is tackled with 26 seconds left and the Bucs do not call timeout.
Instead, Brady hustles the team up to the line and snaps the ball with 13 seconds remaining and throws a dart to Julio Jones for a 29 yard gain into Cleveland territory. Then the Bucs call timeout with 8 seconds remaining.
Thirteen valuable seconds were trashed for no good reason.
The next snap was an incomplete short throw to Cameron Brate. That left just two seconds remaining and the Bucs were not in field goal range. A failed Hail Mary pass closed regulation.
So what about not calling that timeout, Coach?
Bowles was asked about it after the game and defended his decision, which was the equivalent of a player defending loafing in the fourth quarter on a key play.
"That clock was going to run down," Bowles said as Joe commenced vomiting.
Bowles either didn't call timeout because he was unaware of the situation, or he was playing scared, or he didn't trust Tom Brady (the guy he needs to trust to win a Super Bowl). Whatever the reason, it's unacceptable, losing, gutless football.
It's the kind of call — and postgame response — that ownership should study when assessing if they have the right guy to win games when Tom Brady isn't on the field anymore.
Flash poll posted at 6:49 p.m.