"This Team Is Just Too Talented"
November 6th, 2022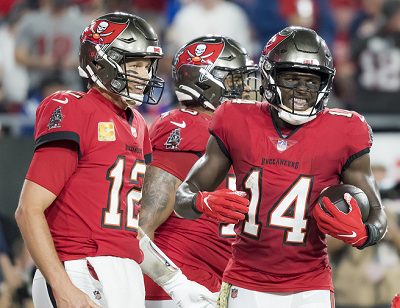 It was a weird Sunday morning on the NFL Network set led by a Hall of Fame quarterback.
That was Kurt Warner, who rolled out film of the Bucs-Ravens game 11 days ago showing three Tom Brady mistakes that were very uncharacteristic of the Bucs' quarterback. But Warner used that film to illustrate why he thinks Tampa Bay can — and will — snap out of their funk and win the NFC South.
Warner thinks Brady will get back to mentally playing like himself soon and the plays already are there for him to make on the field.
Retired coach Steve Mariucci and Hall of Fame receiver Michael Irvin, along with Warner, think the Bucs are much more likely to recover this season than their opponent today, the defending Super Bowl champion Rams.
Warner argued, "This [Bucs] team is just too talented," and he didn't get any opposition on the NFL Network set.
Joe was hoping Mariucci, Irvin, Warner, or anyone, would have offered a solution for the Bucs' running game. Warner referenced Bucs "issues up front" tied to personnel changes on the offensive line are affecting the running game.
Everywhere Joe turns, there's strong belief that Tom Brady will pull himself — and the Bucs — out of their current mess at 3-5. Hopefully, everyone is believing that by 8 p.m. tonight.
---
Ira Kaufman Talks Todd Bowles' Demeanor, Bucs Lacking Confidence, Referendum Week, Rams Game Predictions, And Much More