"Second-Most Underrated"
November 25th, 2022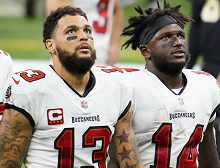 Mike Evans was dropping irony in a recent interview.
Evans hooked up with Pro Bowl edge rusher Von Miller on The Voncast and was asked to name his top-5 underrated receivers in the NFL. Evans quickly went to Washington Commandos receiver Terry McLaurin.
Joe was flabbergasted by Evans' choice. McLaurin signed a three-year, $68 million-plus contract extension over the summer. That's underrated? Damn.
Of course, McLaurin, who has never made a Pro Bowl, is having his third strong season in a row and is a total package kind of receiver, though he's a little small but tough as anyone.
Joe typed this post up because at No. 2 on Evans' underrated list is his $20 million-per-year teammate, Chris Godwin.
That made Joe remember that Evans, the greatest receiver in Tampa Bay history, is due just $14.5 million in 2023, which is the final year of his contract.
Joe expects Evans to sign a massive contract extension this offseason that could make him a Buccaneer for life and give the team the salary cap flexibility (with Evans' help) it got during the course of Evans' five-year, $82 million deal he signed in March of 2018.
While top salaries at cornerback and running back have dropped a bit over the years (Leonard Fournette is earning Doug Martin money) wide receiver money is skyrocketing.