"Pretty Sore" Lenny
November 23rd, 2022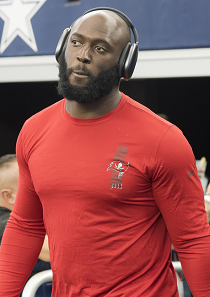 Leonard "Lombardi Lenny" Fournette took a couple of losses against the Seahawks 10 days ago despite the Buccaneers big win.
The first loss was, apparently, his top-dog-running-back job. Rookie Rachaad White had his breakthrough game with 22 carries for 105 yards and a violent stiff-arm that rocked the NFL.
The second Fournette loss was his health. He left the game in the fourth quarter with a hip issue.
Today at One Buc Palace, after the Bucs' first practice in pads since the bye week, head coach Todd Bowles said Fournette is "pretty sore" and unable to perform at 100 percent productivity. He made it sound unlikely that Fournette will play Sunday in Cleveland.
"If he progress and gets better to where he can run full speed, then he'll play. If not, then he won't," Bowles said.
Joe almost hopes Fournette sits out the game (almost). The Bucs could benefit from a harder look at White and the change of pace that Ke'Shawn "Sneak" Vaughn provides. Plus, Fournette getting 100 percent healthy will be key for the stretch run and beyond.