Mike Florio, Jason Garrett See Bucs Winning NFC South
November 1st, 2022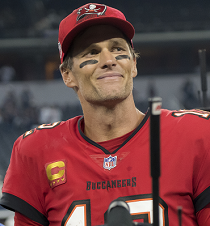 The optimism was flowing on the recent Sunday Night Football studio show. Joe was pumped up and even canceled a Bucs-related mental health appointment on Monday.
Former Cowboys head coach Jason and ProFootballTalk.com creator and guru Mike Florio were on the NBC set and responding when they were asked about the "best story" of the NFL season.
They concurred that it's the Bucs.
Sure, anytime a true legend surprisingly struggles it's a great story. It's happening to Tom Brady but what makes it so interesting is that that Brady has time to dig the Bucs out of this mess thanks to the miserable NFC South. And Florio believes that's exactly what will happen, citing a fire he saw in Brady late Thursday against the Ravens.
"They get into the playoffs, they're going to be dangerous," Florio said. "… They going to be a tough team to beat if they win the division and I suspect that they will."
Garrett talked about Brady's history of getting the most out of players and said perhaps it's just taking more time than it should. Still, Garrett said he's banking on the Bucs winning the NFC South and being dangerous in mid-January.
Joe will add that talent usually wins out, barring tons of injuries and truly dysfunctional coaching. The Bucs certainly have enough talent to win the division. The coaching? Well, fans are about to find out.