"I Think We're In A Better Place Than We Were Five Quarters Ago"
November 14th, 2022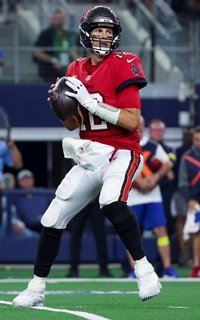 Tom Brady was talking tonight and Joe was guzzling Big Storm beer and Burger Monger fries while taking notes.
The Let's Go! show was on SiriusXM Mad Dog Radio, and Brady was talking Bucs and all kinds of things.
First, Brady was very encouraged by the Bucs' victory yesterday against the Seahawks. "We played much better football than we played all year," he said.
And what fantastic timing, Joe will add.
Co-host Jim Gray asked Brady if the Bucs' issues are resolved? Yes, there's been plenty of talk on the show in past weeks about Tampa Bay's plodding offense.
Brady gave a great response that reflected the week-to-week nature of the NFL. "I think we're in a better place than we were five quarters ago," Brady said. "…That was more of a template for winning for our team yesterday than it has been all year," citing excellent defense and "a little bit better" offense.
Regarding the ridiculous trick play the Bucs ran with Leonard Fournette throwing 25 yards to Brady on slick field, Brady laughed and wanted the world to know he tried to stop the interception.
"That Philly special was not very special," Brady said. "… I tried to go up to at least tackle, you know, and try to keep the ball from [getting intercepted] and I fell on my face. So in a lot of ways, you know, embarrassment and shame at the same time on the same play."
Joe will have more from Brady later regarding the bye week and mental toughness.