Did Tom Brady Do Enough To Lure Odell Beckham Jr.?
November 6th, 2022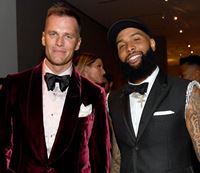 Word broke before today's Bucs-Rams game that talented free agent wide receiver Odell Beckham will be cleared to play football later this week.
Beckham, 30, won a ring with the Rams last season but it's unlikely he'll want to play for them considering they've got a 3-5 record in a tough division. The Packers (3-6) sure could use him, but like the Rams, they'll need a miracle finish to make the playoffs.
OBJ is still beloved in New York, where the Giants (6-2) could use a jolt. But Joe's thinking tonight about the first-place Buccaneers. Yeah, they're 4-5, but they lead the NFC South and they've got Tom Brady. And Brady and OBJ have a relationship.
Unless Rob Gronkowski will return or Adrian Peterson can run for 3 1/2 yards per carry, OBJ may be the only remaining all-in play on the board for the Buccaneers.
And it's still supposed to be an all-in season.
It could be argued that the Bucs don't need Beckham, Joe supposes. But when you consider Julio Jones was off the field in crunch time tonight (and he was wearing a helmet and it appeared he was trying to get in the game) and Brady was targeting Scotty Miller and Cade Otton with the game on the line, maybe there's room for Beckham. Breshad Perriman isn't helping at this point and the offense is poor.
If the Bucs had lost today, then Joe would call them out of the OBJ hunt, but they should be at least talking to his agent. Maybe he can live at Brady's Davis Islands bachelor pad.