Defending The Indefensible
November 28th, 2022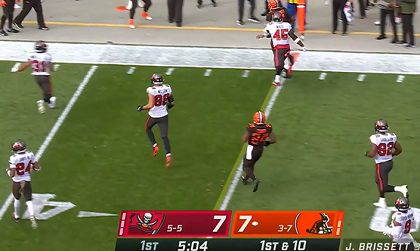 When you lose in overtime to a miserable football team after choking away a fourth-quarter lead, every bad play gets magnified.
That brings Joe to the screenshot above. Browns quarterback Jacoby Brissett was scrambling for the first-down marker on first day midway through the first quarter. Buccaneers savior linebacker was in hot pursuit and Brown was a half-step from going out of bounds with his body fully facing the sidelines.
In flew White swinging his right arm (from south to north) to try and punch out the ball from Brissett. The ball only was going to go out of bounds, but still White gave it a try.
The result was White hitting Brissett out of bounds and the refs throwing a no-brainer, 15-yard penalty on White and the Bucs. That moved the Browns from midfield to the Bucs' 35 yard line.
Cleveland gained just two yards on their next three plays and then booted a 51 yard field goal. Who knew that was the ballgame?
"I think it was a petty, tic-tac call," White said after the game, via @JennaLaineESPN Twitter video. "I swiped at the ball and, like he fell on the tarp; he was running out of bounds. … And the end of the day that's just playing."
White went on to say when you see a player running with the ball loose, then you have to go for it, and you have to be careful of quarterbacks turning up field. White repeated of his play, "There was nothing bad about it."
Ultimately, White said he's still responsible for handing the Browns three points.
Joe thinks the replay video tells the story. White made the wrong call and his swipe at the ball wasn't going to send the ball anywhere but out of bounds.