Byron Leftwich And Running Left
November 17th, 2022
This has been happening since Week 1 and Joe just does not understand it.
Byron Leftwich, when he played quarterback, was right-handed. But man, the dude sure leans left-handed when it comes to running the ball.
Leftwich has been asked more than once why he loves to run to the left. On face value, it makes no sense. On the right side of the Bucs' line is All-Pro right tackle Tristan Wirfs. At right guard is long-time veteran Shaq Mason. That's the strength, no?
Joe knows left tackle Donovan Smith is solid and when he's having a good game, he's a monster. Smith is not the issue here. It's the two interior guys.
Left guard Nick Leverett was a backup when the season started. Robert Hainsey is in his first season starting at center.
So why not run right? When asked, Leftwich often pulls out his stock answer of how he calls plays that he thinks best give the Bucs a chance to win. That's a generalization and a total dodge to the question why he doesn't trust his strength on the line, the right side.
Rookie running back Rachaad White had a helluva game Sunday in Munich. But look at the NextGen chart below.
White ran damn near all the time to the left. He never broke five yards running left. He did run up what appears to the be zero-hole between Hainsey and Mason, and once White got past the line of scrimmage he headed left.
Based on what this chart has — and surely the Bucs (Leftwich) had access to this information during the game, Leftwich should have begun running White exclusively behind Mason and Wirfs.
When it comes to the running game, Joe never saw anyone as predictable as Leftwich.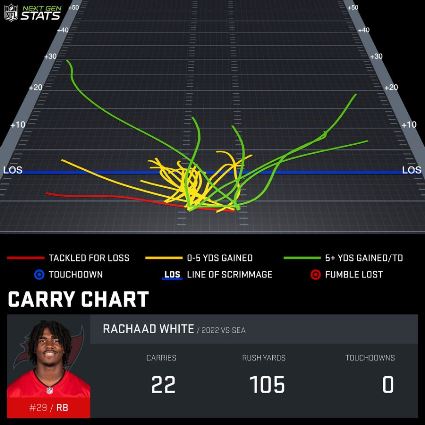 Thank you @KyleBrandt & @gmfb! pic.twitter.com/91Z1wmxfs0

— Tampa Bay Buccaneers (@Buccaneers) November 17, 2022