Bucs QB Coach Defends Byron Leftwich, Says Injuries Frustrating Tom Brady
November 16th, 2022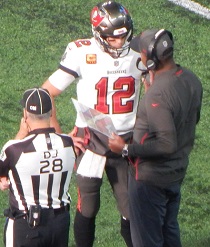 This should quiet any remaining chatter about Odell Beckham Jr. coming to the Buccaneers.
An array of injuries to Bucs pass catchers has been frustrating Tom Brady. That the word from Clyde Christensen, Tampa Bay QB coach via the Buccaneers Radio Network.
Yesterday, Christensen painted a picture of Brady being a huge fan of the Bucs' quick and athletic receivers but banging his head against the wall because he can't work with them enough at full speed.
"He loves our guys when they're healthy," Christensen said. "I think he's just been frustrated like everybody that, 'Gosh, I just think we should be rolling now. We just can't get all our guys on the field at the same time. We got such good guys.' So I think he's just had a level of frustration with that. Not that he was dissatisfied with the guys but you just don't get any continuity. They don't work together.

"And I think it's the same for the playcaller. Who's going to be in there? It's hard to make up your gameplan when all of a sudden you don't know. 'Hey, is Julio playing?' You know, and it's Thursday afternoon and he didn't practice.

"Well, do you make a set of plays for Julio and all of a sudden he doesn't make it, or he does make it and you don't have enough set up for him? So the whole thing gets out of whack when you're not positive of who's going to be in there and what they're doing."
For the record, Christensen wasn't asked about Byron Leftwich, "the playcaller." He went there on his own.
Of course it's been challenging to have Chris Godwin in different stages of knee recovery all season, along with the Julio Jones saga of injuries and Russell Gage battling hamstring issues since July. Throw in Cameron Brate's neck injury, Cade Otton being a rookie and missing time because his mother died, and Leonard Fournette claiming he was playing on one leg. 
Joe isn't making excuses for Leftwich's performance, only lining up the list that sits on two inexperienced interior offensive linemen.
The Bucs now are as healthy among their pass catchers as they've been since opening day, and there's a bye week to improve.
It made a difference Sunday and it should in 11 days against Cleveland.
As for Beckham, after hearing Christensen, it's hard to believe Brady wants to add another receiver dealing with a significant rehab.