Browns 23, Buccaneers 17 (Overtime)
November 27th, 2022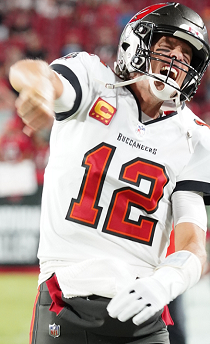 If you love ugly, underachieving football, then this Bucs team is for you.
Our beloved Buccaneers dropped their record to 5-6 in a sad, sad struggle against a weaksauce Browns team this afternoon. Yeah, the Bucs lost in overtime — to the bumbling Browns.
Tampa Bay had multiple chances on offense to close the game out in regulation but failed to score on its final five drives — five punts plus the second half ending on a Hail Mary pass.
One fourth-quarter punt was Todd Bowles being too scared to play to win. Thanks, Coach. Joe is sure Team Glazer loved you taking the ball out of Tom Brady's hands at the Cleveland 37 yard line on 4th-and-2 on a drive that could have put the game away.
The Bucs' repeated fourth-quarter failures opened the door for Browns running back Nick Chubb to get one last shot to run the ball down the Bucs' throat — and he did. Cleveland tied the game with a six-play, 43-yard drive and Tom Brady couldn't pull off a game-winning drive in regulation.
Overtime brought more ugly football — two more punts — and one of the most embarrassing losses of the season. …It's been a season full of embarrassment.
The Bucs, of course, set out to stop the run today and allowed Cleveland 189 yards on 34 carries.
Joe is furious on so many levels, mostly because the Bucs are a bad team.
In this crazy season, the Bucs still lead the NFC South after Atlanta (5-7) lost in Washington.