72 Percent Chance Of Winning The NFC South
November 30th, 2022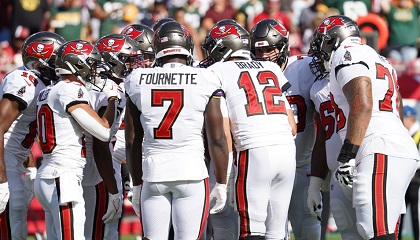 Playoffs, baby!
Sure, the Bucs are bad, losers of four of their past six games and sitting with a 5-6 record despite Tom Brady at quarterback and a bunch of Pro Bowl talent on the roster.
Scoreboard is scoreboard, however, and the Bucs lead the NFC South and control their destiny. Also, their remaining schedule isn't too rough. If the Bucs win their remaining division games — all against worse teams and quarterbacks — the math says they're about a 95 percent lock for the playoffs.
With six games remaining, the ESPN computers were barking this week that the Bucs' current chances to win the division sit at 72 percent. Carolina, Atlanta and New Orleans divide the remaining 28 percent.
Joe likes those odds. And who the hell knows how good the Bucs might look in 6 1/2 weeks when/if they line up for a playoff game at The Licht House against the likes of the Cowboys or the Giants?
Any team can get a lot better — or a lot worse — over the course of a month.