Vita Vea Talks Tom Brady Saturday Hiatus
October 19th, 2022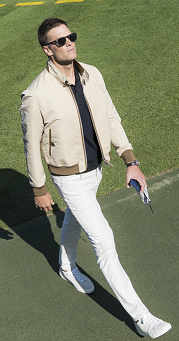 Yes, Tom Brady skipped Saturday's walk-through practice and the Bucs proceeded to be dealt a stunning upset a day later while the offense sputtered.
Some media types and fans think that's no coincidence, and they also think the Bucs' locker room has or will hold it against Tom Brady.
Pro Bowl defensive tackle Vita Vea isn't buying it. He hopped on The Richard Sherman Podcast this week and said it's not a thing in the locker room.
"A guy of that caliber, you know, you trust him to be able to handle his Ps and Qs on and off the field. So I think that was the reason why no one really, you know, took any fault to that," Vea said of Brady's Saturday offense.
Joe doesn't think Brady's absence, tied to him attending creepy Bob Kraft's wedding on Friday night, was why the Bucs lost to Pittsburgh, or that it even was a problem.
However, Joe will acknowledge that the "where's-Tom?" questions have to end or they will become the issue some think they are now.