Vintage Tom Brady
October 9th, 2022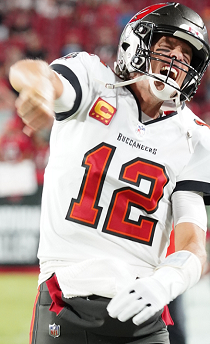 What a kickass dissection of the Falcons it was today by Tom Brady as the Bucs snapped their two-game losing streak at The Licht House.
First, Brady was 22-of-30 for 224 yards — in the first half! But it was more than that, Brady was spreading the ball around and staying crazy calm. Joe almost felt like it was a Patriots game of years past.
His deep ball was sharp. He was hitting tight windows. And the short game was vintage Brady with running backs catching 11 balls halfway through the third quarter as the Bucs put the game out of reach.
Joe watches Brady perform like this and can't help but imagine Brady watching the film and thinking there's no way he's not playing in 2023. Please, football gods. Please!
Yeah, it's the Falcons, but they're a physical bunch and a team that was playing good football before today. Brady's confidence in his offensive line is showing, and Joe thinks that will translate to more variety coming to the offense.
Brady finished 35-for-52 for 351 yards and a touchdown, plus a two-point conversion. That put Brady at a 68.1 percent completion rate for the season.
Joe's life feels right again.