Two Missed Scotty Miller Pass Interference Calls
October 9th, 2022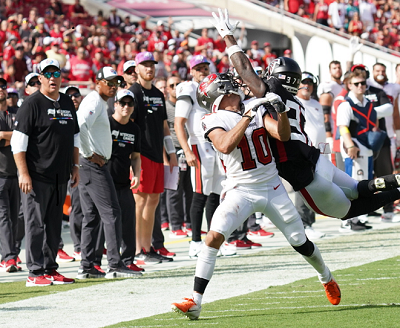 Photos don't lie, and this one is especially telling with general manager Jason Licht seen on the left with his mouth agape, probably wondering when the flag will come out on this bomb to Scotty Miller.
This photo represents the second of two non-calls that went against Miller and the Bucs today.
Falcons cornerback Dee Alford is out of control and on Miller's body before the ball arrives. It was clear pass interference and the zebras didn't call it. Miller actually caught the ball out of bounds.
This non-call (after another pass interference flag that didn't come when Miller was hit on a similar deep shot to the right corner) was about a minute before the bad roughing the passer call that Falcons fans are crying about.
Regarding the photo above, Joe has a frame taken a split second later that shows Alford getting more into Miller's body before the ball arrives.
Maybe it's something about Miller's size that has referees hesitant to call a flag. There have been other games this season in which Miller didn't get the benefit of the doubt — or the benefit of a zebra that didn't need glasses.
The Bucs offense was more dangerous than it appeared in the box score.