TV Map For Dixie Chicks-Bucs
October 8th, 2022
A good chunk of the republic will get to enjoy the Dixie Chicks-Bucs game tomorrow afternoon on free TV.
Will you? Joe has the details.
This is the FOX Game of the Week. Roughly half the country will be able to watch the Bucs on their local FOX affiliate. The only areas that won't get the Dixie Chicks and the Bucs are the Pacific Northwest, New England, the upper Midwest and the upper Gulf Coast.
Sadly, the Bucs get a lesser FOX crew to call the game. Ungodly boring Joe Davis will handle the play-by-play with the overanalysis of Moose Johnston. (Joe heard this Davis interviewed on a podcast and the guy has all the personality of a lawn rake.)
Of course, Bucs fans can head to Big Storm Brewery in Clearwater, or their other taprooms in Odessa and downtown Orlando at the Amway Center. And naturally, visiting your neighborhood Hooters is always a wise move. Bonus: Select Hooters in Florida carry Big Storm beer on tap!
(Streaming information and options will be included in the "Gameday Tampa Bay" post scheduled to publish on this here website at midnight.)
As always, TV coverage maps are courtesy of 506sports.com.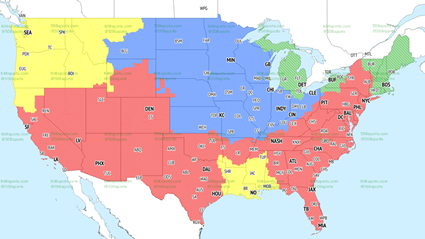 FOX Early-Window games
Red: Atlanta @ Tampa Bay
Blue: Chicago @ Minnesota
Green: Detroit @ New England
Yellow: Seattle @ New Orleans