Tom Brady Versus Mike Glennon
October 24th, 2022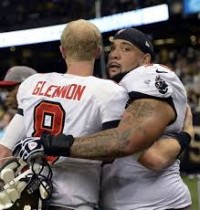 How far has the Buccaneers offense fallen? Joe will start with a disturbing nugget ESPN pumped out during the second half of yesterday's game.
"The Bucs have scored 1 touchdown in their last 22 drives," Twittered NFL reporter Field Yates.
It got worse from there as the game continued and the Bucs failed on more drives in their blowout loss to the Panthers 21-3.
That 1-of-22 run (now worse) got in Joe's head. So Joe went into research mode to see how then-rookie starting QB Mike Glennon fared on his final 22 drives while closing out the 2013 season throwing to the likes of Tiquan Underwood, Tim Wright and Vincent Jackson while handing off to Bobby Rainey.
It turns out Glennon engineered touchdown drives on 3 of his final 22 drives, which covered all series through two games, while he ate nine sacks behind an offensive line that was blown up the following offseason.
So, yes, if watching immobile Tom Brady lead the Bucs offense the last two weeks looks familiar, your brain is not playing tricks on you. It's just a little worse than what you've seen before.