Tom Brady Says Bucs Will Not Quit And Neither Will He
October 25th, 2022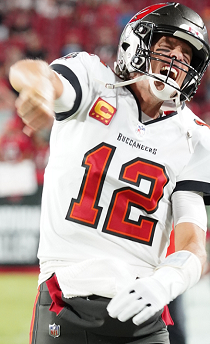 Brady believers unite!
The Goat has spoken and he sounds like a man determined to go to any length to raise the Bucs from the rock-bottom-like mess they've fallen into.
"There is no quit in our group," Brady said emphatically about the Bucs last night on his Let's Go! show on SiriusXM Mad Dog Radio. "And there will never be a quit as long as I'm a part of any team. I know that for sure."
Co-host Jim Gray went on to tell Brady that it recently was "quasi-suggested" that he might quit midseason. And Brady again acted as if that was a ridiculous take.
"I made a commitment to this team and I love this team. And I love this organization," Brady said. "I told them in March I was playing, and I've never quit on anything in my life. I know a bunch of teammates, that we all count on each other to be at our best and to work hard to put the team first. And that's what you commit to, and that's what you want your teammates to commit to, as well."
Brady went on to reference about team-first commitment he learned in college and with the Patriots, and that it hasn't changed for him in Tampa.
"I'm always trying to commit more to the things that are important to me. And this team is very important to me and I certainly want to be the best I can be for them," Brady said.
It feels awfully foolish to bet against Brady, though not so foolish if you watched Sunday's unthinkable Bucs blowout loss to Carolina — a team that is tanking in addition to being bad.
Joe's got a feeling — a feel-good feeling — that Brady's hand in fixing the Bucs got a lot heavier this week.