Tom Brady References A "Next Year" In Tampa
October 10th, 2022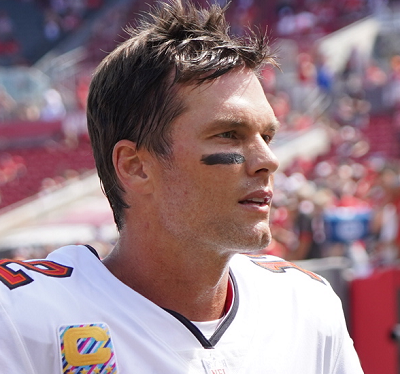 Joe realizes this was said in jest by Tom Brady tonight, but considering Brady is such a calculated speaker, it's easy to believe a kernel of truth might be part of the equation.
On his Let's Go! show on SiriusXM Mad Dog Radio, Brady had New York Yankees star Aaron Judge as a guest. Brady is a fan of Judge, he said, and Brady always seems to have an extra interest in northern California athletes like himself.
Brady also added that he has great awareness of Judge after spending time training at the Yankees spring facility in Tampa since he's joined the Buccaneers.
During the interview, Brady asked Judge for his comment on joining Brady and the Bucs next season as a pass catcher.
"Obviously, having such an incredible year and, you know, now on the brink of [baseball] free agency, I was certainly wondering what it would take to get you down here in Tampa to be a tight end for us next year," Brady said to Judge. "So as a free agent, it looked pretty good to me the way he runs, the size, the catch radius, the power. I mean, this could be something that we could be on to. I know you were a good high school player."
Judge replied that he'd be up for a split contract and he can handle red zone work.
But the line of intrigue for Bucs fans has to be Brady referencing a "next year" in Tampa. Maybe, just maybe, he's not finished with playing football, or playing for the Bucs.