Tom Brady In New York For Kraft Wedding
October 15th, 2022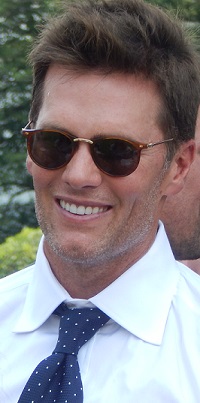 If it's during the regular season, Joe always is interested in the movements of Tom Brady.
The Goat was in Manhattan last night, per the Twittering of ESPN insider Adam Schefter. The occasion was the wedding of Patriots owner Robert Kraft.
Brady is seen in the who's-who photo below next to former Patriots, Bills and Cowboys QB Drew Bledsoe, the guy Brady replaced with the Belicheats.
WEEI.com, affiliated with the big Boston sports radio station, reports that Brady attended without a date and the newlyweds were introduced by Al Michaels. Joe didn't see a report anywhere of Rob Gronkowski being in attendance.
On the football front, Joe hopes Brady being around guys like Randy Moss, Bledsoe and former teammates led to him hearing a steady diet of, 'Don't retire, TB.'
Patriots' owner Robert Kraft married Dana Blumberg last night at Hall des Lumières in lower Manhattan. Guests included Tom Brady, Roger Goodell, Adam Silver, Randy Moss, Vince Wilfork and Jon Bon Jovi.

Elton John, Ed Sheeran and Meek Mill all performed at the wedding. pic.twitter.com/sz93QmpUja

— Adam Schefter (@AdamSchefter) October 15, 2022