"They Look Like The Guys Have A Lot More Money"
October 21st, 2022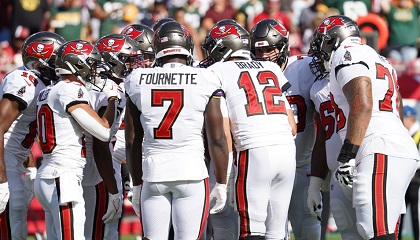 One of the most astute Bucs observers and biggest Bucs fan you'll ever meet was talking this week and Joe was listening closely.
That's former Bucs quarterback Shaun King, one of four QBs to lead the Bucs to the NFC championship game. He hosts VSiN Primetime now after leaving the college football coaching ranks.
King visited the Maggie and Perloff show on CBS Sports Radio and was asked about the state of the Bucs. In his reply was this nugget.
"Tampa does look like they're a little older. They look like the guys have a lot more money," King said. "That hunger, maybe, I'm not saying it doesn't exist, it's just not evident when you watch them play — that they're playing to like this championship standard and competing against themselves. It's a little different than two years ago."
Yeah, it is different than it was two years ago. Back then, the Bucs didn't have "a toughness problem" to the extend they have know. But given the caliber of the roster and the presence of Tom Brady and many high-character players, Joe believes it's all very correctable.