Stop The Style Points Freakout
October 9th, 2022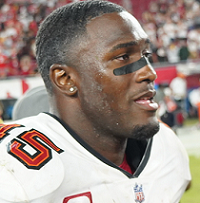 The Bucs led 21-0 today in the fourth quarter and crapped the bed trying to close out the game at The Licht House.
Still, Atlanta never had the ball with a chance to win yet some Bucs fans are in full meltdown mode.
Joe is not in that camp. Style points are nice and yeah, the Falcons are not good and won't have a winning record when the season is over. However, Atlanta is still a physical football team playing hard for their second-year head coach.
Newsflash: Atlanta ran the ball down the Bucs' throat in Tampa last year and trailed 27-17 entering the fourth quarter. The Bucs kicked a field goal in the final seconds to win 30-17.
Joe gets that Bucs fans want greatness and have a Super Bowl-or-bust mindset. If the team doesn't look like a Super Bowl champ, then it wasn't a good showing; that's what some fans think.
Joe thinks those fans need to get over it. This season, with young key players on offense and Chris Godwin coming back from a major injury, is shaping up a lot like 2020. Grind it out early, ugly if it has to be, and then gel late with rapidly maturing youngsters and a master at quarterback.
The Bucs certainly can do that in a weakened NFC.
Complete games are damn nice, but they don't count more than a 21-15 win against the Falcons.
Joe is celebrating tonight … whether you like it or not.