Shaq Barrett Torn Achilles Will Be Expensive
October 28th, 2022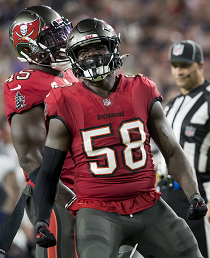 The torn Achilles suffered by Bucs sacks king Shaq Barrett last night is tragic for the Bucs' hopes this season, but it also likely extends into 2023.
Shaq, who turns 30 next month, is due $15 million in 2023, and he will count $21.6 million against next year's salary cap. With this major injury, it's unclear whether he can return at an effective level on opening day.
Salary cap nerds will note Shaq has a massive dead cap number for 2023, so it's makes no real football sense to cut him, and he probably has injury guarantees regardless.
It's hard to win without your top pass rusher; that's among the Bucs' big concerns for the remainder of this season. And now it looks like that issue will rollover into next season.
When Joe thinks of Shaq and big-money Ryan Jensen dealing with serious injuries and being over 30 and under contract for 2023, Joe heads directly to the toilet.