Scary Times For Cameron Brate
October 16th, 2022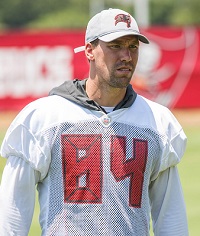 Late in the third quarter, veteran tight end Cameron Brate made his first catch of the day, got hit and fell to the turf in distress.
It was a scary moment. Play was stopped for about 10 minutes. Clearly something was wrong as Brate clutched his head and the Bucs' medical team rushed out to him. Both teams gathered around Brate in a large circle as he was worked on.
Brate returned from the concussion protocol after missing last week's game and played today against the Steelers.
Joe sure hopes it's not some sort of brutal neck injury, though a second concussion in two weeks is serious business.
Brate was taken off on a stretcher and gave a thumbs up to the crowd while his head and neck were stabilized. Joe will update fans as information comes available.
UPDATE: FOX Sports updated at 3:31 p.m. to say Brate is being evaluated for an unspecified injury.