Russell Gage Talks Critical Drop, Narrative Change
October 20th, 2022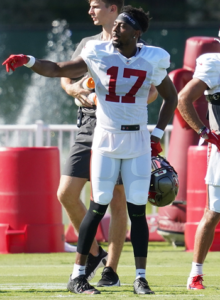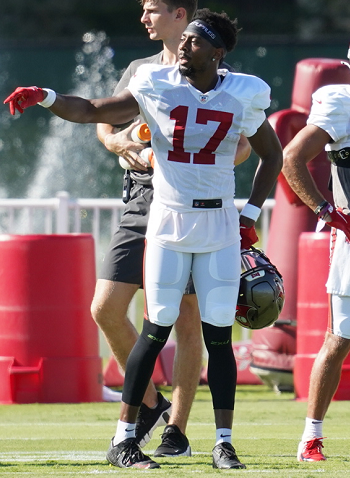 Newcomer Russell Gage is a thoughtful dude, but he's been a meh addition to the Bucs' receiving corps despite more catches (25) than Mike Evans (24).
Gage has been banged up all season and had a critical fumble against Green Bay and an end zone drop against Pittsburgh.
If he holds on both times, there's a great chance the Bucs are 5-1 and everybody is celebrating the greatness of Tom Brady and the steady and savvy hand of head coach Todd Bowles. But that's not reality.
Instead, the Bucs are 3-3 and there are many questions about what's wrong with the offense. Gage wasn't in Tampa last season, so he can't address what may have changed, but Gage can talk about how things aren't as ugly as they appear.
"We go out there, we have really good drives, and then we kind of stalemate in the red zone but we got down there real easy. You know? I think we're just a few plays from maybe this conversation being different, you know us being a real explosive offense — from us being at the bottom to us being at the top," Gage said this week.

"You know, it's just a few plays like I talked about before that we gotta make happen that'll change the whole outcome, the whole outlook of our offense."
Gage was asked whether he's noticed a lack of motion and play-action in the red zone. Gage's response was a resounding "no" and he noted how he dropped a TD in his hands on a play that had no motion.
"We were in the red zone [Sunday] I had one that I should have caught. That's a touchdown. There was no movement on that play," Gage said, adding the game film shows there are plays to be made but the Bucs aren't executing.
Joe appreciates Gage owning up the drop on a precision throw from Brady. And Joe agrees that the Bucs are a few plays away from being viewed a whole lot differently. However, that's nearly always how it is with bad teams — players talking about how close they are to success.
---
Ira Kaufman Enters Multiple Tom Brady & Todd Bowles Debates, Talks State Of The Bucs And Picks One Reason For The Steelers Loss, And More