Byron Leftwich Proves Good At Dancing
October 21st, 2022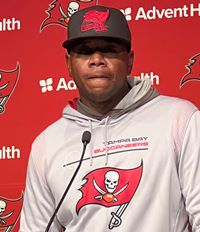 Joe hasn't been to each and every press conference held by Bucs offensive coordinator Byron Leftwich.
For a period of time, Joe personally didn't bother with them. Leftwich rarely said anything of substance, often gave at best half-answers and largely only offered up sweeping platitudes.
Leftwich has been far more Lovie Smith than Raheem Morris, Greg Schiano, Dirk Koetter or Bucco Bruce Arians when it comes to being candid since he arrived in Tampa.
Periodically, Leftwich will drop his shield and has demonstrated he can be very engaging if he wants to be. His appearances on various podcasts demonstrated this side of Leftwich as well.
Yesterday, maybe for the first time, Leftwich was dealing with incoming fire from just about all corners in his first public appearance since that debacle in Pittsburgh. A conspiracy theorist would swear Leftwich openly tried to give that game away.
In January, Leftwich was thought to be a prime candidate for a head coaching job. His outlook appears to be steadily dropping this fall as his Bucs offense has been dreadfully unproductive — despite having some of the best skill position players in the NFL.
Six games through the season, the Bucs are averaging 20.2 points a game. That is the worst the Bucs have been at scoring since the ill-fated 2014 Bucs with ill-fitted Marcus Arroyo as offensive coordinator, Stewart McClown at quarterback and lousy Lovie Smith as the pirate ship's captain.
That year the Bucs finished 2-14 and won the Chase for Jameis.
This year's Bucs has the greatest quarterback of all time, a probable Hall of Fame receiver, a Pro Bowl receiver opposite him and a former No. 4 overall pick at running back.
The Bucs, along with their terrible scoring offense, have the worst running game in the NFL.
To his credit, Leftwich answered every question but scant few with any substance (he did give Joe a good answer about referees and gameplans). His answers have been consistent, saying he has called plays that he felt gave the Bucs a chance to win. He didn't wander far from that pattern.
At one point Leftwich seemed to confess he thinks someone or some folks in the local pen and mic club have been out to get him for years, when he was asked if he self-evaluates his play calls.
"I look [at] what I'm doing as a play caller every week – I look and see what I'm doing. Obviously, everybody has their opinion, has had those opinions since I've been here – understandable."
Joe doesn't think anyone has been out to get Leftwich or has treated him unfairly. If anything, he's been given a massive pass both in 2019 and recently — until yesterday.
Joe does remember how in 2019 Leftwich constantly ran Peyton Barber up the middle on first downs time after time after time (not unlike what he's now doing with Playoff Lenny). Back then Joe, armed with the data, asked Leftwich if the reason Barber had no luck running up the middle on first downs was because Leftwich was tipping pitches by being so predictable with those plays and  defenses knew what was coming?
That didn't go over well. Leftwich glared at Joe and barked, "No!" He then fielded a question from someone else.
Leftwich's Sunday gameplan against the Steelers was irresponsible in so many ways. The only logical reason for trying to ground and pound the Steelers would be if Tom Brady was hurt and if that was the case, then Blaine Gabbert should have been throwing at those glorified USFL defensive backs the Steelers started.
If NFL owners value a head coach who dances well when asked pertinent questions, then Leftwich may still land a head coaching job next year.