Report: Bucs "Optimistic" Top Three Receivers Will Play Against Chiefs Tonight
October 2nd, 2022
[UPDATE: 3:21 a.m.] Joe will believe it when he sees it.
The Bucs have been so riddled by injuries, as is often reported from the AdventHamstring Training Center (nee: One Buc Palace), that Joe just cannot nibble on the carrot that suggests the Bucs will be their closest to full strength at receiver since Opening Night.
Mike Evans is back from a one-game suspension against Kansas City tonight. But Chris Godwin and Julio Jones? Joe's suspicious.
But wait! BSPN uber insider Adam Schefter, as he is wont to do in the wee hours of a Sunday morning of game day, has an interesting report. He seems to have been fed intel that the team is "optimistic" of the chances of Evans, Godwin and Jones each suiting up and taking the field tonight.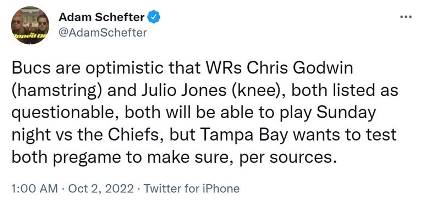 Joe will believe it when he sees it. The first clue is the active game roster. That won't be released until 90 minutes before kickoff, roughly 6:50 p.m. tonight.
The Bucs activated Cole Beasley again from the practice squad yesterday.
If Evans, Godwin and Jones are all active along with Beasley, does that mean Scotty Miller will be inactive? Or just Breshad Perriman, who was listed as "doubtful" on Friday's injury report?
[UPDATE: 3:21 a.m.] NFL Network insider Ian Rapoport had a report roughly two hours after Schefter's. In Rapoport's missive, he said the Bucs' top-four receivers, Evans, Godwin, Julio and Russell Gage "should" play tonight.
Cross your fingers, Bucs fans.