Lay Off Luke Goedeke (Part II)
October 19th, 2022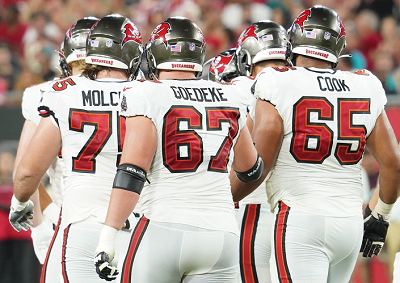 Fan punching bag rookie left guard Luke Goedeke isn't going anywhere and nobody's pissed off at him at One Buc Palace.
Consider what Todd Bowles said about Goedeke on Tuesday.
"Luke is good at the run game. He got beat a couple of times [against Pittsburgh,] Bowles told the Buccaneers Radio Network. " … He's getting better. We just have to keep bringing him along. We know he's going to be fine. We got to deal with the bumps and bruises of that and there are teachable moments for him."
Bowles went on to say the second-round pick's confidence "is great" and he needs to keep working on "better hand placement," and that the game will slow down for Goedeke as time goes on.
Joe will note that first-round pick rookie guard Zion Johnson of the Chargers had three holding penalties on Monday night in a very tight game against Denver. Johnson had a solid start to the season but has had a hiccup recently.
It happens. They're rookies. Not everyone is Tristan Wirfs.
Nobody's panicking at One Buc Palace about the rookie, who right now is the weakest link on the Tampa Bay O-line.
Bowles said the grades were good for the offensive line individually against Pittsburgh, but collectively the grade wasn't the greatest.
As for Goedeke, Joe hears the calls to bench him and/or for general manager Jason Licht to make a panic trade. Joe would counter that Goedeke may be struggling but he's not the reason the Bucs are 3-3 instead of 4-2 or 5-1.
Joe has no problem giving Goedeke a few more games to right his ship.