Ira Kaufman's 10 Takeaways From Bucs-Panthers
October 23rd, 2022
BY IRA KAUFMAN
There's only one question left to ponder. WATGT.
What are the Glazers thinking?
At the moment, they have to be thinking they made a mistake sliding Todd Bowles into the head coach position instead of pursuing other options. There's plenty of time for Bowles to restore the confidence of ownership, but four losses in five games has eroded his credibility with the fan base — and perhaps with his players.
It's hard to imagine a worse two weeks in Buc history, considering the expectations for this team and the quality of the opponents. Tampa Bay just lost to a pair of floundering franchises armed with backup quarterbacks.
The Bucs never led in either game — and Sunday's effort was particularly alarming. Carolina owner David Tepper is probably stewing about his team's 21-3 victory because the Panthers are angling for a top draft pick.
They came into Bank of America Stadium with the league's worst record and walked out within one game of the NFC South lead. That's how Twilight Zone this division finds itself, with four teams combining for a 10-18 record.
It's the only saving grace for a Buc club that once again exhibited little passion or focus against an inferior foe. Through seven games, they have yet to reach the end zone in an opening quarter. Hopefully, Byron Leftwich spent the entire trip home from Charlotte dwelling on that travesty.
They can't run the football and they can't convert a third down. They can't find a way to get chunk plays and the play-calling lacks imagination and nerve.
Other than that, this offense is in fine shape.
There's too much pressure on a defense that caused Carolina to punt on six of its first seven possessions, including five 3-and-outs. Eventually, an injury-ravaged defense buckled.
Let's not lose sight of the real issue at One Buc Place … a Tom Brady-led attack that has topped 21 points once all season.
The back of Brady's helmet contained a message: inspire change.
Thousands of Buc fans are chanting in unison — damn right.
Here's how a bad football team embarrassed the visitors and dropped Tampa Bay below .500 for the first time since Brady lost his Buc debut in the 2020 season opener.
* Rush defense has fallen off sharply without Ndamukong Suh and Sunday was no exception. D'Onta Foreman looked like Chuck Foreman, combining with Chuba Hubbard to average 7.5 yards per carry. Before Foreman ripped off a 60-yard dash, his longest NFL run had been 39 yards. And here come the run-heavy Ravens off a short week.
* Buc fans are wondering what would have happened if Mike Evans hadn't dropped that potential 64-yard TD pass on the game's third snap. Here's the grim truth — the Bucs would have lost 21-10. Yes, they were that bad all afternoon. As predicted, Evans was targeted 15 times after last week's disappearing act.
* That long ball to Evans was an outlier because Brady keeps throwing short, hoping for yards after the catch. It ain't happening, people. Evans averaged 10.7 yards per reception, with Chris Godwin clocking in at 6.1 and Russell Gage at 9.8. What gives? It's not like Brady is under siege. Go deep or go home.
* Carolina's TD drives covered 80, 77 and 75 yards. That's not acceptable against a team that just traded its best offensive weapon. You know your team is in trouble when Bowles utters the word "bust" more often than a Vegas blackjack dealer.
* The one thing you can say about the Buc ground game is it's consistent. Leonard Fournette and Rachaad White combined to average 3 yards per carry. Sounds about right.
* Tampa Bay ranked fifth last year with a 44.8 percent conversion rate on third down. Those days are over. During the past two weeks, Brady and company faced 26 third-down situations and failed on 22 of them.
* The only time the Bucs registered a gain of more than 20 yards came when Brady found Cade Otton for 35 yards. Meanwhile, the offensively challenged Panthers reeled off five snaps that gained more than 20 yards. And you wonder why Buc fans stocked up on TUMS Sunday evening.
* The Bucs have scored fewer points than the Washington Commanders this season. Think about that.
* Sunday's game won't be included in Donovan Smith's 2022 highlight-film tape.
* Bowles says he prefers sarcasm rather than getting in the face of his players. Memo to the head coach: sarcasm isn't working.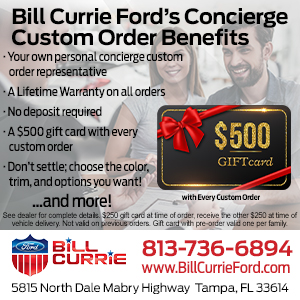 ---