"I Don't Think Any Of Us Have Played To The Level We're Capable"
October 13th, 2022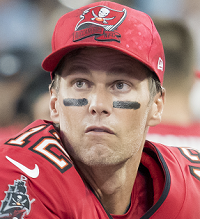 The Goat was talking today and summing up the state of the Bucs' season very nicely.
"I don't think any of us have played to the level we're capable of," Brady said.
Joe thinks that reflects the feeling of every Bucs fan from Lakeland to Largo to Lakewood Ranch. Joe has yet to watch a Bucs game and say, "Damn, these guys balled out for 60 minutes."
Maybe that's a good thing, as Todd Bowles implied this week when he gave his "character wins" dissertation. Bowles says blowout wins come later in the season, typically, after a team figures itself out and builds mental toughness.
Brady, of course, is all about the grind.
Buccaneers legend Derrick Brooks talked on TAMPA TWO about how the Bucs, despite what some think, are adjusting to a new head coaching style in addition to know players. And that takes time, Brooks said. He certainly has experience there from when the Bucs transitioned from Father Dungy to Chucky with a very similar roster and coaching staff.
Joe can't wait to see the Bucs pitch a complete game. But Joe's willing to wait as long as the grind yields "Ws."