Humiliation Sets In
October 23rd, 2022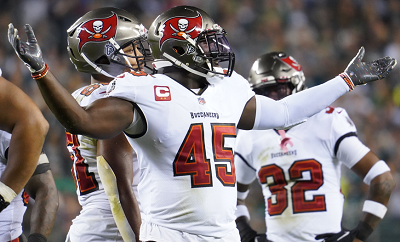 The truly saddest aspect to this Bucs football team that was kicked in the groin by the Panthers and their fourth-string quarterback today, 21-3, is that Tampa Bay truly is a soft football team.
Soft. Soft. Soft.
Nobody watches a Bucs game any longer and says, 'Damn, the Bucs really punch teams in the mouth. They're a physical and hungry group.' And that's so depressing.
As a Bucs fan for decades, Joe knows losing and suffering. But Joe also knows losing can be stomached a little bit if the team is fighting its ass off. But these Bucs are not.
They look like a bunch of checked out losers. There's just no other way to say it. That's the body language, the results and the only conclusion given all the talent on the roster and the stable of experienced coaches.
It's not even Halloween and the Bucs just tanked a division game against a decimated roster.
Effort is a problem with this team. Hell, Todd Bowles said it himself using "toughness" instead of the "E" word.
Frankly, Joe is afraid to watch Bowles' news conference today. If Bowles doesn't reference terrible effort, then Joe might have stroke.
It's not too much to expect a team to fight from the opening whistle, even without eight Pro Bowlers on the field.