Ex-Bucs GM Wonders If Anyone Is Coaching Tom Brady
October 30th, 2022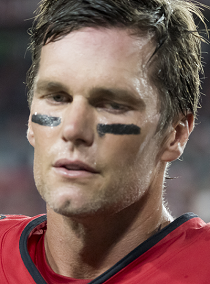 Are Bucs coaches fearful of Tom Brady, and hesitant and scared when it comes to coaching him?
The guy who general manager Jason Licht replaced seems to thinks so.
It was a damning take on SiriusXM NFL Radio by Mark Dominik.
Dominik watched the Bucs run five times Thursday on their first drive and score a touchdowns to take a 7-0 lead on the Ravens, and then run twice on their next drive that resulted in a field goal. Tampa Bay ran just six more times all game despite the score being tight.
It's a losing formula, Dominik said, and one that cost them dearly against the Ravens.
"They're scared to not give Tom the ball and I think that's a real problem," Dominik said, adding that no respect or threat of the run is bad for the offense. "I was blown away by how the run just disappeared."
Dominik suggested the Bucs scripted the opening drive and then said, 'the heck with it.'
The Packers and Aaron Rodgers are having a similar problem, he said, but in Tampa, Dominik isn't sure Brady is being coached up.
"The other thing I don't see. It seemed like Tom Brady is being coached more by his Microsoft [Tablet] that it was anybody else," Dominik said. "…  Look at the iPad figure it out, and get back out there and play football. So that's a big concern I have also. Who's over there kicking him on the tail? You know, when he needs a little kick in the tail. Or who's saying, 'Hey, look, we need to balance this out a little bit more, Tom. You're not going to throw the ball as much next series.' And I don't want to put that all on Byron Leftwich. I just don't know."
Joe will have an interesting and eyebrow-raising report on this subject later this week.
For now, Dominik's take is thought-provoking. And remember, Dominik is a big Bucs fan and is not a basher of the team. He's also got guys he hired still in prominent roles at One Buc Palace.