Buccaneers 21, Falcons 15
October 9th, 2022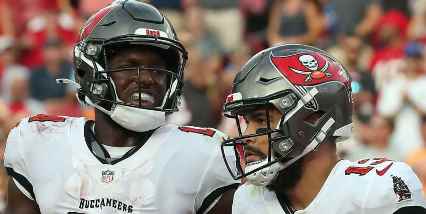 It wasn't really a fair fight. The Bucs had their way with the Falcons — when they got out of their own way with penalties, screwups in short yardage and missed tackles, especially on special teams.
That's more nitpicking from Joe than anything else. Our beloved Buccaneers were humming with their passing game and Atlanta's special running game was slowed just enough by the Bucs defense. And of course, it helps when you force a team to pass and they are starting runaround JV quarterback Marcus Mariota.
But damn, that Bucs passing game is a sweet sight, and it all starts with the pass blocking that settled down in a hurry after the first quarter.
Tom Brady was 22-of-30 for 224 yards — in the first half!
Joe and every other Bucs fan got a beautiful lesson in what the offense can look like with Mike Evans and Chris Godwin healthy. Godwin truly looks like he has his legs back, and the Falcons had no answer with their No. 1 cornerback A.J. Terrell spending the day with Evans.
Good for Todd Bowles, who desperately needed the win to avoid the Bucs going 0-3 at home to start the season.
Great to see the defense bounce back after allowing 41 points a week ago, even if it wasn't much of a test. Shutting out any NFL team through three quarters like they did today before pseudo garbage time is a big deal.
Yeah, Joe wishes the Bucs had played a complete game and not crapped the bed trying to close out the Falcons, but it's more proof that the Bucs can win while still needing a lot of work.
And don't bark at Joe about the Bucs getting a gift of a call with the Grady Jarrett personal foul with three minute remaining. That came immediately after the zebras passed on a clear pass interference call on the Falcons in the red zone on Scotty Miller.
Tampa Bay sits ALONE atop the NFC South at 3-2.