Big Opportunity Ahead For Cade Otton
October 27th, 2022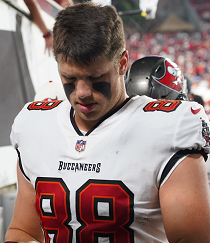 Yes, optimistic Bucs fans are out there and Joe's poll today revealed that 24.85 percent of Tampa Bay fans expect a victory tonight against the Ravens!!
Yeah, that's a horrible number considering the Bucs are home and Tom Brady is the healthy quarterback. That's how bad the vibes are from Port Richey to Punta Gorda.
It's even a split view at JoeBucsFan.com world headquarters, with one Joe and Ira Kaufman picking a Bucs win and the other Joe picking the Bucs to get smacked around.
Joe watched the Ravens' last game on film this morning, their Sunday win against the Browns. Tight game it was, but what's important here was Joe watching Browns tight end David Njoku catch all seven of his targets for 71 yards.
The dude was open time after time, and he had a miserable quarterback throwing him the ball.
Joe expects the Ravens' defensive coordinator to leave plenty of room tonight for the Bucs' top tight end, rookie Cade Otton. He's been on the rise and earning Tom Brady's trust as the NFL's leading pass catcher among rookie tight ends. Look for Otton to be fed the football.
Joe will be in great mood after the game if Otton busts the over/under 3.5 catches line.
Hall of Fame linebacker Derrick Brooks is picking a winner tonight with Sage JoeBucsFan.com columnist Ira Kaufman in this edition of TAMPA TWO. More insight from The Identity Tampa Bay and Joe.