At 4-4, Falcons Lead The NFC South
October 30th, 2022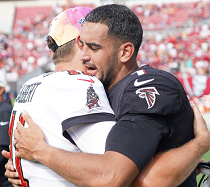 What a weird year in the NFC South, a Panthers organization trying to lose is playing strong football and Marcus Mariota's Falcons now lead the division with a 4-4 record.
The Carolina Panthers and immortal fourth-string quarterback P.J. Walker followed up their pounding of the Buccaneers last Sunday by losing an overtime heartbreaker, 37-34, at Atlanta today.
Joe watched the entire game and what a physical battle it was. Sadly, Joe will say both teams looked a lot hungrier than the Bucs have the past few weeks.
Both clubs hammered away on their running games and had good success. That disturbed Joe because the Bucs can't stop the run lately or run the ball.
Walker threw a pick-six on a screen pass with about a minute remaining in the first half. It was a gift that Atlanta desperately needed. Atlanta grabbed a late lead but a savage throw by Walker — 67 yards in the air (video below)– to D.J. Moore tied the game with seconds remaining. But Carolina missed the extra point, which was nearly 50 yards because Moore got a 15-yard celebration penalty after the TD grab.
The Carolina missed a short field goal in overtime before Mariota had a key 30-yard run that put Atlanta in field goal range.
The Bucs sit in second place tied with the slimy Saints, which shut out the Raiders 24-0. (Yes, Jameis Winston will stay benched yet another week for Andy Dalton.) The Bucs own a tiebreaker on New Orleans after beating them in Week 2.
The division is there for the Bucs to take, Joe believes, if they're willing to fight for it. Tampa Bay closes the regular season at Atlanta.
PJ WALKER TO DJ MOORE, HOLY COW!pic.twitter.com/hNazMcWFwe

— Ari Meirov (@MySportsUpdate) October 30, 2022