"An Aggressive Frame Of Mind"
October 1st, 2022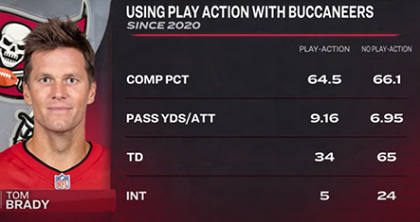 Tom Brady on Sunday Night Football means two things from NBC.
The first is a lot of cool Brady graphics. The second is former Bucs quarterback Chris Simms on the pregame and halftime shows breaking down all kinds of Xs and Os as the NBC Sports film guru.
Already there's a good Simms breakdown at NBCSports.com, where Simms explains that Brady has displayed "an aggressive frame of mind" all season despite not throwing deep as often. The film shows Brady is looking but isn't finding as many targets open, Simms said. Of course, that's no surprise given all the Bucs' injuries at receiver.
Joe was pleased to hear this from Simms because it is evidence that the no-risk-it-no-biscuit brand of ball hasn't left the building.
During the Simms segment, the graphic above appeared. It illustrates how much better Brady is when he uses play-action, and Simms is confident that's the best way for the Bucs to beat the Chiefs on Sunday night.
The Bucs' renewed focus on their run game, Simms believes, will bear fruit Sunday with the Chiefs being forced to respect the run and leading to Mike Evans running free more than the Chiefs would like.
And yeah, Simms is sure Brady has every ounce of arm talent needed to hit Evans — and others — to carve up Kansas City like he did in February of 2021.
---
Ira Kaufman Debates Byron Leftwich Accountability And Two Todd Bowles Comments, Talks Clashing Bucs-Chiefs Predictions And More.