"A Bunch Of Yelling And Screaming" From Todd Bowles
October 25th, 2022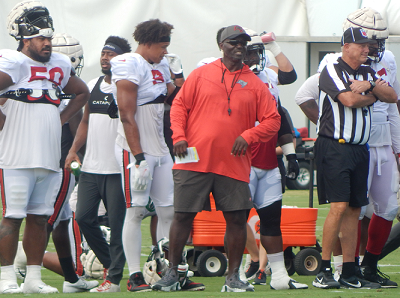 The Bucs entered the 2022 season on a 22-5 run, so four losses in their last five games truly feels like new territory for the coaching staff.
Perhaps that's why Todd Bowles has been more emotional than Joe's ever seen him, and why Bowles said today that he's been jacking up the volume.
Bowles hopped on the Buccaneers Radio Network and was asked how he handles a losing stretch as head coach.
The verbatim Q&A is below, including Bowles stepping a bit out of his public persona and using term "butthole."
Casey Phillips: Do you yell and scream in situations like this? Do you just teach? Do you do a combination of those? What do you feel like is your way of trying to, in the role that you have, right the ship from the way you approach it?

Todd Bowles: Well there's been a bunch of yelling and screaming, but at the same time you have to coach, as well. You know we got 10 more games to go; it's not down in the dumps. We trust each other. We know each other. We continue to try and get better and do things and eliminate mistakes. Communication is always important on both sides of it. So the yelling and screaming when you lose, that's going to be natural. But it's coming from a place of coaching. It's not coming from a place of, you know, 'you're a butthole' and all that type of stuff. So, that's part of it, but at the same time you have to teach them. We have to tweak things. We have to constantly tweak things and teach them because that's what coaching is.
So for the fans who think Bowles is too tame, maybe Bowles saying he's been screaming at players is soothing.
Teams win without screaming coaches, and teams win with them. There are no trophies for the nastiest dress down. So Joe isn't moved by any of this.
Whatever Bowles is yelling and tweaking behind the scenes, the results must arrive immediately. The Bucs have too many healthy superstars and too many seasoned coaches and players to keep losing.
If the Bucs can't find their way to averaging 24 points a game and a 5-5 record before their Week 11 bye, then there are serious problems that Bowles likely is incapable of fixing.