Why Change What's Working?
September 28th, 2022
The long fear Joe had in the Bucs promoting defensive coordinator Todd Bowles to head coach when Bucco Bruce Arians stepped away would be that he might tinker with the offense.
Remember Joe's favorite football commandment? Don't fix what's not broken.
Well, if you believe former Bucs quarterback Chris Simms, who spoke with Father Dungy after his sitdown with Bowles, at the very least Bowles has adjusted the offensive philosophy.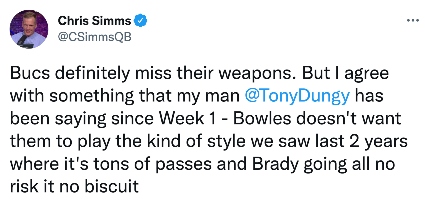 What exactly was wrong with no risk it; no biscuit? It got the Bucs one Super Bowl win and likely would have gotten the Bucs to another had that jackarse Antonio Brown not gone mental.
So what was wrong with no risk it; no biscuit?
Now if you want to tell Joe that with so many new pieces on the offensive line the Bucs cannot go no risk it; no biscuit without getting Tom Brady broken in half, OK. Joe will buy that.
Joe doesn't understand what was so wrong with one of the best offenses in the NFL the past two years.
There was nothing wrong with no risk it; no biscuit.