Vita Vea Defied Team Medical Staff
September 6th, 2022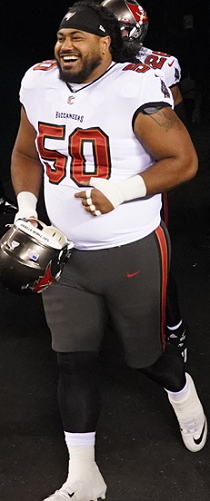 What a cool story Vita Vea has from his 2020 season. It speaks to why he was named a team captain this week.
Vea sat down for the Bussin' With The Boys podcast and talked about his broken ankle suffered in Week 5 of the 2020 season. Most Bucs fans have heard part of the story; Ndamukong Suh told Vea immediately to accept that he could make it back for the postseason while Bucs trainers and doctors didn't think Vea had a chance.
Vea went all-in on the recovery process, didn't skip team meetings like many injured players do, and got himself back for the NFC Championship game.
However, Vea explained on the podcast, part of that process was defying doctors.
Vea said throughout his recovery he intentionally soaked his cast regularly despite being told not to get it wet. Vea said he did that so team doctors would cut the cast and replace it. When it was off, Vea said, that gave Vea precious minutes to work on the ankle's rotation and mobility and gauge the recovery, even though it was against doctor's orders.
Needless to say Vea wasn't a popular guy among the medical staff during that time, but he credits it for getting him ready sooner.
Great stuff from Vea. Warrior!