Sean Payton Picks Cowboys To Beat Bucs
September 6th, 2022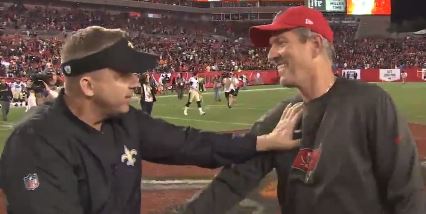 And what would else would one expect from the retired Slimy Saints head coach?
Sean Payton, architect of the Slimy Saints and Tom Brady's tampering partner, is doing analyst work for FOX this year and today he visited Kay Adams of FanDuel TV. Yes, that Kay Adams.
Payton not only picked the Saints to win the NFC South, he believes the Bucs will lose at Dallas on Sunday night.
Payton seems so impressed by Dan Quinn's development of the Cowboys defense and how a Quinn defense is so tough. Keep in mind Brady took apart Quinn's Atlanta defense during the Super Bowl for the 2016 season, and a season later Brady marched into Atlanta and had a 23-0 lead early in the fourth quarter against the Falcons. And of course, Brady had no great issues with the Dallas defense under Quinn last season.
The Bucs will be "pretty happy" with two wins in their first three games, Payton said as he looked at the Bucs facing Dallas, New Orleans and the Packers to the start the season.
Man, Joe sure wishes there was a way to throw a pie in Payton's face.
Considering Payton picked the Bucs to lose and for the Saints to win the division, it's clear to Joe that Payton thinks the Bucs will open the season 0-2.
---
The Annual Season Prediction Episode Of The Ira Kaufman Podcast; Ira Fires Away On 20-Plus Calls