TV Map For Packers-Bucs
September 24th, 2022
Leave it to the Dixie Chicks to louse everything up.
Will you get to see the Bucs host the Packers on free TV in the Bucs' home opener of the 2022 season? Joe has the details.
This is the FOX Game of the Week. Almost every TV market east of the Rocky Mountains will be watching the Packers-Bucs. Except Atlanta. The good people of Georgia and southeastern Tennessee will be assaulted by Marcus Mariota and the dreadful Dixie Chicks.
You folks have Joe's condolences. Only two corners of the nation — aside from the greater Georgia region — will not get the Packers-Bucs. That's the Pacific Northwest as well as Southern California and Arizona.
FOX's No. 1 team of Kevin Burkhardt, Greg Olsen and Erin Andrews (who looked exceptional last week) will call the game.
Of course, Bucs fans can head to Big Storm Brewery in Clearwater, or their other taprooms in Odessa, Cape Coral or downtown Orlando at the Amway Center. And naturally, visiting your neighborhood Hooters is always a wise move. Bonus: Select Hooters in Florida carry Big Storm beer on tap!
(Streaming information and options will be included in the "Gameday Tampa Bay" post scheduled to publish on this here website at midnight.)
As always, TV coverage maps are courtesy of 506sports.com.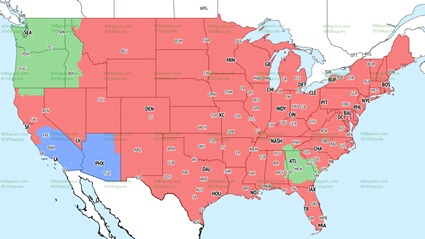 FOX Late-Window games
Red: Green Bay @ Tampa Bay
Blue: LA Rams @ Arizona
Green: Atlanta @ Seattle