"Somebody's Will Gonna Break And It Ain't Going To Be Mine"
September 13th, 2022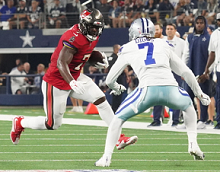 Leonard Fournette was clear that the Bucs were trying to send a message to the NFL last night.
Smiling on the happy NBC postgame show, Fournette talked about how the Bucs' running game hasn't been respected, how Bucs running backs were drilled relentlessly last week to hit holes hard, and how much he worked on zone running all offseason.
Fournette also didn't back down from a question about playing late in games when an opponent appears broken.
"Going against a big guy [like me] and eventually somebody's will gonna break, and it ain't going to be mine," Fournette said.
Playoff Lenny had plenty of vocal love for rookie left guard Luke Goedeke, and he also shared that he sees Julio Jones as someone a lot like him when he arrived in Tampa from Jacksonville for the 2020 season: written off because of past injuries and being misunderstood.
Playoff Lenny also said he was extra motivated in last night's season-opener after all the he's-too-fat talk this summer.
Joe's just glad Fournette looked he did all through training camp and in preseason, like a bruising beast in his prime and very comfortable in the offense.