Tom Brady And The "Sleeping Policemen"
September 14th, 2022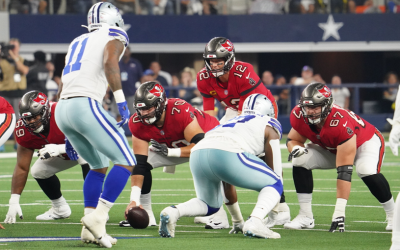 Future Hall of Fame left tackle Joe Thomas sounds like a jealous guy.
Thomas does some work for The33rdTeam.com, and last month he was ranting about how many offensive line careers Tom Brady has made because of his quick trigger and keen movements in the pocket. Joe almost felt for Thomas, who sounded like a guy that spent years blocking for Colt McCoy, Brady Quinn and Josh McCown at quarterback.
Thomas took it slighting of the Bucs' offensive linemen a giant step further after Sunday's Bucs-Cowboys game, via a video for The33rdTeam.
What does it take to a be a successful Bucs O-lineman? Not much, per Thomas, because Brady is getting rid of the ball in 2 1/2 seconds or less.
"Basically, all you need to do is be a sleeping policeman," Thomas said. "That's right. All you gotta do is lay down on the ground and make sure that the guy takes a little bit of a hop over you so he can't run straight to the quarterback and Brady's getting rid of the football."
How insulting, especially after the Bucs just pounded the ball successfully on the ground against Dallas.
Joe misses the old Thomas, the guy who used to share film love of Donovan Smith on Twitter.
Whoa 💪🏻 @TBBuccaneers pic.twitter.com/xmkywo3PuS

— Joe Thomas (@joethomas73) December 19, 2017